Why Marketplaces?
Ideal for selling and promoting a variety of goods and services, marketplace websites have become increasingly popular in recent years. Enabling numerous sellers to connect with potential buyers, multi-vendor marketplaces can offer a reliable purchase platform for buyers, secure selling facilities to retailers and a good source of revenue to site owners.
Of course, the success of a multi-vendor marketplace depends on the stability, reliability and functionality of the site in question. Like all websites, security is a big concern. Both buyers and vendors need to be assured their details will be held securely and that they can trade with confidence. In addition to this, site owners need to be aware of their responsibilities, particularly in light of the recent GDPR legislation.
Designing and developing websites certainly falls into the expertise of Wysi, but we also specialise in building multi-vendor marketplaces. With a thorough understanding of the GDPR requirements, we're able to construct secure and compliant marketplaces, so you can rest assured your site will be functioning in accordance with the relevant regulations. All of this is made possible thanks to Siteglide's powerful infrastructure that was released in back in 2018. Built onto AWS, the platform allows for unlimited many-to-many instances and interactions with tremendous stability, power and security. Siteglide also includes a CRM, CMS, eCommerce, Custom Databases, Secure Logins, SSL as standard across all domains, and a host of professional features that will impress even the most ambitious of developers. It's been met with great acclaim within the web development industry, especially amongst non-technical agencies. Here's a snapshot of the Admin Interface (showing how to create a new database):-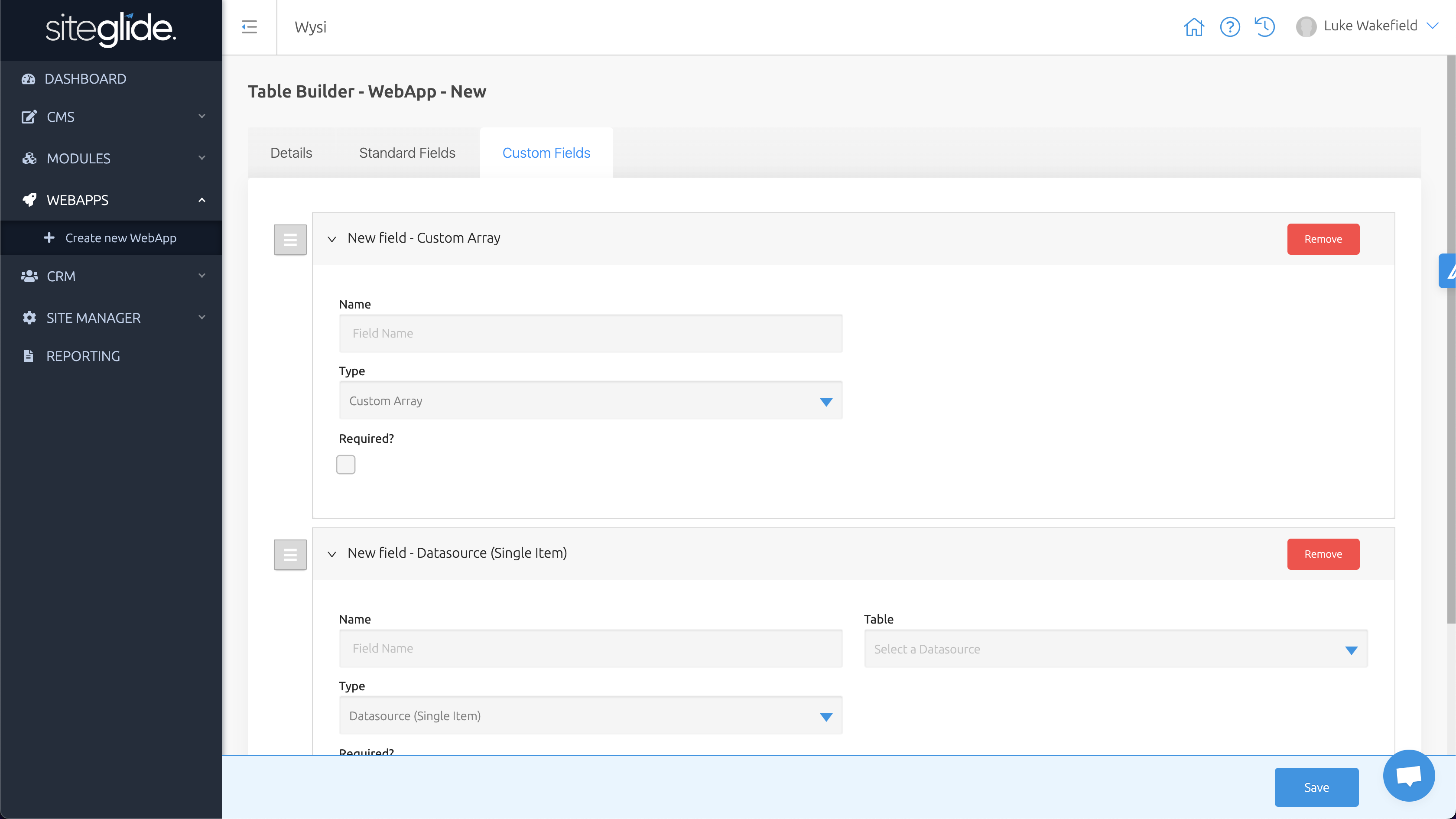 Increasing Marketplace Functionality
Once you've got the legalities covered, it's time to start thinking about how you want your marketplace to function. Will you be facilitating the sale of services, for example, or are you focused on the sale of goods and products? Would you prefer to work with a small number of selected vendors or will you allow any number of vendors to trade on your platform? Sellers Will you encourage sellers to complete their user profile as soon as they login? How many portals should your marketplace feature, and will you require separate dashboards for buyers and sellers?
With endless options available, you needn't be stuck with predictable or mundane features. Although there are a number of marketplace options available, their functionality can be somewhat limited and it's difficult to create your own, original, marketplace environment. By creating a bespoke multi-vendor marketplace with Wysi, you retain control of the project. In response to your requirements, we can create your ideal marketplace, with all the features and functionality you require.
Reducing Downtime and Ensuring Reliability
No website owner wants to encounter any downtime. As well as being costly for site owners, it can result in users going elsewhere and this gives your competitors an advantage straight away. At WYSI, we understand the importance of having a reliable and functional site at all times.
When developing multi-vendor marketplaces on behalf of our clients, we use Siteglide to build the site from top to bottom. Based on Amazon AWS servers, downtime is kept to an absolute minimum, so you can be sure your users will be able to access the site whenever they choose.
With no need for continual plugins or updates, Siteglide provides a secure way of hosting your multi-vendor marketplace. By reducing the risk of security issues occurring, your users can be confident when using your marketplace and will soon realise the benefits of trading on yoru platform.
To find out more about building a multi-vendor marketplace with WYSI, contact us today.